Shortage of Skilled Trade in Ontario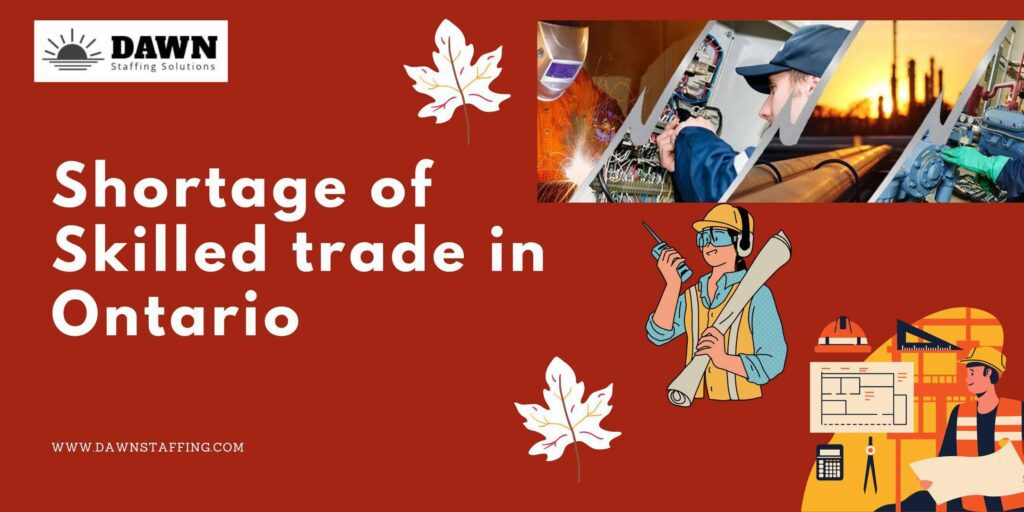 Work in the Skilled Trades involves working with your hands and requires specialised training. There are a wide range of professions within the skilled trades. It is possible for young adults to build a career (and a savings account) much sooner by pursuing a skilled trade occupation.
Some of the leading skilled trades in Ontario are:
The Skilled Trade Worker Shortage In Ontario:
Working in a trade career can result in less debt, lucrative wages, job stability, and a better quality of life than some other careers. Skilled trade workers are in short supply, which results in these career benefits. There has been a steady gap between the demand and supply of skilled trade workers in Ontario for a while now.
But, why do skilled traders seem to be in short supply in Ontario?
Manufacturers have difficulty filling job vacancies 85% of the time, according to Canadian Manufacturers & Exporters (CME). Skills in production and general labour are most in demand, followed by engineers, management, and production support.

As technology increases in traditional industries, there is a shortage of skilled workers. There has been little progress in retraining existing skilled trades employees to keep up with the technological advances of today's machinery and equipment.

Youth aren't typically attracted to trades, which are often seen as unattractive careers. For the construction industry to meet demand, more than 307,000 workers will be needed to replace over 257,000 retirees over the same period. (BuildForce Canada)
Far-reaching, negative impacts on businesses due to labour shortage:
When a company lacks skilled workers, its growth can be hindered.

To make profits and while cutting costs, a company may take shortcuts elsewhere in its operations if growth is hindered.

Without the appropriate skills, employees' work quality may get affected.
What steps has the province taken to improve the skills training ?
An Ontario Skilled Trades Alliance report titled Going Further Examining Employer Incentives in Ontario's Skills Training System was recently released. A call was made for the province to incentivize employers to invest in skills training for the next generation of workers, as they bear the burden of training and associated costs.

One of the Ontario government's marketing campaigns was launched recently to encourage employers to hire more apprentices and attract more people to the skilled trades. Additionally, $75 million will be invested in programs aimed at exposing high-school students to the trades.

Among the post-secondary institutions contributing to closing the skills trades shortage is Durham College in Whitby, Ont. To help students learn the next generation of trade skills, the college is expanding its Skills Training Centre.
Skilled trades are occupations that require certain skills, knowledge, or abilities. Skills trades are usually hands-on, but you can find them in every career field. Therefore, with time and effort we shall hope for Ontario to overcome the skilled trades shortage soon. Providing skilled trades recruitment solutions in Ontario, Dawn Staffing Solutions strive for utmost satisfaction of both candidates and clients. We aim to match employees with the most compatible company. Do not hesitate to reach out to us.