Dawn Staffing Solutions Aiding Employers in Resolving Massive Hiring Challenges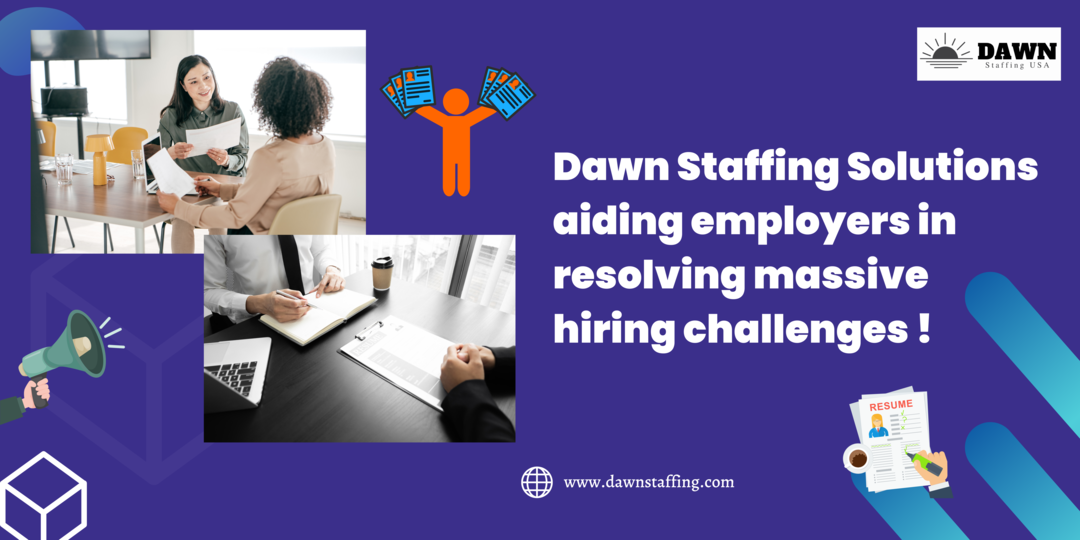 The Concept of High-Volume Recruiting
Hiring a large number of job applicants in a short period of time is what high-volume recruiting is all about. Bulk hiring or mass hiring are also common terms used to describe it. When a company is growing rapidly or needs many new employees at once, a high-volume recruitment strategy is necessary. A high-volume hiring process goes beyond simply hiring a large number of new employees. Planning and collaboration within the organization are essential to this process.
The Ideal Hiring Approach With Dawn Staffing
A shrinking talent market poses a challenge to recruiters who hire large numbers of employees. But Dawn Staffing recruiters can manage an effective mass hiring process and help you achieve your goals with their huge hiring team practicing the right hiring strategies, tools, and processes. Thus, competitive advantages are gained in the fierce competition for top talent by doing this. We are committed to filling seasonal hiring requisitions and nurturing your talent pipeline. Aiming to stay ahead of the competition, we implement high-volume hiring best practices.
What Dawn Staffing Solutions Has To Offer When It Comes To Bulk Hiring?
We can streamline your high volume hiring process by making a few simple tweaks.
Our mass hiring plan is always active
Having Dawn Staffing's data analysts on board allows them to get to know businesses and post jobs according to your needs. Recruiting specialists who are also familiar with local job markets make up our team. Say you're looking forward to filling up your manufacturing jobs in Canada or as an employer if you want to immediately hire mechanical engineers, electricians, or operations managers, we've got you all covered!
A Strong Network to Enhance Candidate Sourcing
In order to reach potential candidates, we use multiple channels. Additionally, our recruiters utilize programmatic ads and very active social media profiles, such as LinkedIn, to expand candidate sourcing.
Using the Appropriate Tools and Software
Using tools and technologies in a practical way is something we are familiar with. In addition to social media, the applicant tracking system, proctoring services, etc., our recruiters and IT team utilize software and tools extensively. Writing job descriptions, promoting job postings, reviewing resumes, conducting interviews, and extending job offers all involve software applications.
Rapid Yet Apt screening process
Fast screening processes for bulk hiring can be developed by implementing technology. Short online assessments based on artificial intelligence are used to spot qualified candidates. Undoubtedly, our team's screening of candidates' backgrounds and resumes is noteworthy.
Effortless Interview Strategies
Using proven interview techniques, Dawn Staffing's top recruiters help us find highly qualified candidates. There are a few things that our recruiters and HR department always consider to be essentials – which is why they can make the difference between many other staffing firms and us.
Even in the case of high-volume recruiting, Dawn Staffing will strive to ensure a good candidate experience. With a structured interview process, we avoid hiring bias with a cattle call method of interviewing.
Dawn Staffing's Help With Job Fair Help
We play a crucial role in helping with job fairs in several ways:
Sourcing candidates: We have access to a large pool of job seekers and can help identify and bring in suitable candidates to the job fair.
Pre-screening candidates: Dawn Staffing pre-screens candidates before the job fair, saving time and resources for both the job fair organizers and the employers participating in the fair.
Representing employers: Our recruiters act as a representative for employers, helping to create a positive image for the employer and assisting with the recruitment process.
Providing expertise: Our team have a deep understanding of the job market and can provide valuable insights and advice to both job seekers and employers. They can help match the right candidates with the right jobs, based on their skills and experience.
Follow-up support: After the job fair, we as the best recruitment agency in Canada, assist the hiring process by following up with employers and job seekers. This includes assisting with the scheduling of interviews, conducting reference checks, and helping to negotiate salary and benefits packages.
Overall, Dawn Staffing Solutions provides valuable support to job fairs, helping to streamline the recruitment process, and connecting job seekers with employers in an efficient and effective manner.
In a Nutshell
Identifying and selecting the right candidates is the goal of volume and high-volume recruitment. A job with a purpose, a chance to develop and control their career, and a work-life balance are all essential for talented individuals. When they apply, they want respect as well.