Dawn Staffing Solutions: Bridging the Gap in Canadian

Skilled Trades Recruitment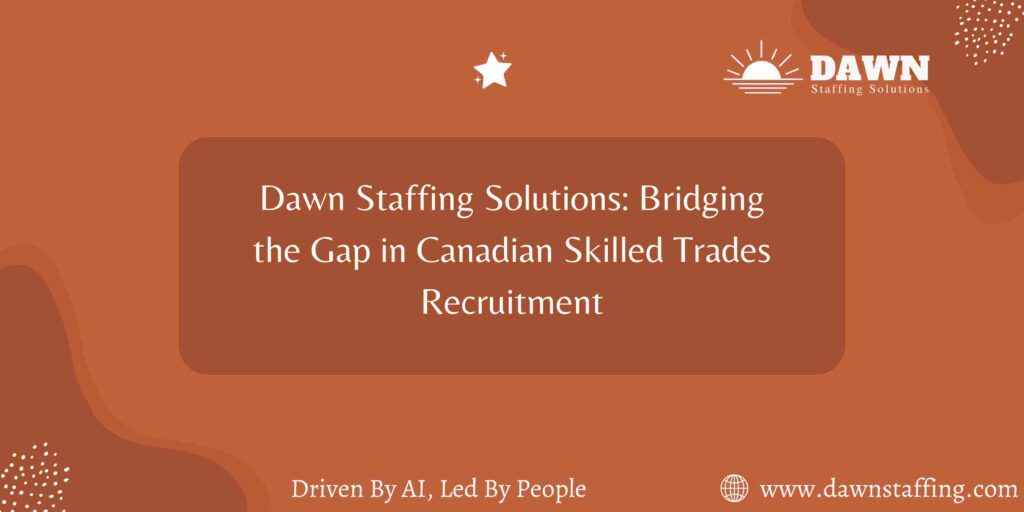 In the highly competitive manufacturing and automotive industries, finding qualified skilled trade workers can be a challenging task for employers. Dawn Staffing Solutions, a leading staffing agency in Ontario, Canada, is dedicated to bridging the gap between employers and skilled trades talent.
At Dawn Staffing Solutions, we understand the demand for talented professionals such as millwrights, industrial electricians, tool and die makers, etc. In the manufacturing and automotive sectors. With years of experience in the industry, we have built a strong network and developed effective recruitment strategies to connect employers with the right talent. As a specialized staffing agency, we focus on serving the needs of manufacturing and automotive employers across Ontario and even extend our services to other areas in Canada, including Western Canada. Our dedicated team of recruiters works tirelessly to identify and find licensed skilled trade professionals who meet our client's specific requirements.
Through our comprehensive screening process, we ensure that all candidates possess the necessary qualifications, experience, and skills demanded by the industry. We thoroughly evaluate their technical abilities, certifications, and practical experience, ensuring they are a perfect fit for our clients' job vacancies. Dawn Staffing Solutions is located in Mississauga, strategically positioned in a geographical space that allows us to cater to the recruitment needs of industries throughout Ontario. Our strong presence in the area has enabled us to build long-lasting relationships with employers and establish ourselves as a trusted partner in the recruitment process.
Employers who choose to partner with Dawn Staffing Solutions can expect personalized service, tailored recruitment solutions, and a pool of talented skilled trades professionals to choose from. We handle the entire recruitment process, starting from sourcing candidates to conducting interviews and reference checks, allowing our clients to focus on their core business operations. For skilled trades professionals seeking new employment opportunities.
Dawn Staffing Solutions is the ideal platform to explore exciting career prospects. We offer access to a wide range of job opportunities in the manufacturing and automotive industries in Ontario, Canada. Contact Dawn Staffing Solutions today and let our expertise in skilled trades recruitment help bridge the gap between employers and top-notch talent in the Canadian job market.