Getting Yourself a Millwright Job in Canada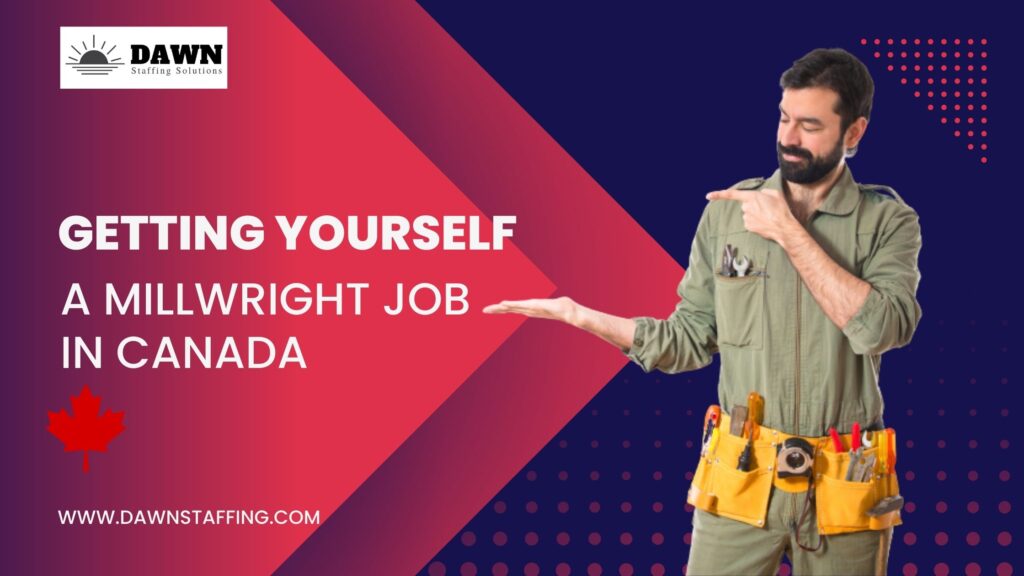 Installing, maintaining, and repairing stationary industrial machinery and mechanical equipment is the job of a millwright, also known as an industrial mechanic. Metal-shaping machines and welding equipment are used by millwrights. Additionally, they interpret drawings, follow layouts, and assemble parts until they function correctly.
Cross-trained mechanics and millwrights can work in pipe fitting, welding, machining, or electrical maintenance in addition to their primary trade. It might be necessary for an industrial mechanic to maintain and keep humming a giant turbine that a millwright installed after the mill shut down. Those who enjoy variety and learning new skills will enjoy this job. It is essential to have a desire to work with mechanical and electrical systems. Apprenticeships or two-year degrees are usually required. The job would be ideal for someone with excellent problem-solving skills and a jack of all trades mindset.
Who is a millwright?
Millwrights install, maintain, repair, and dismantle heavy machinery. Power producers, aggregate producers, mining operators, construction firms, recycling firms, manufacturers, foundries, and food processors all operate in these industries. They ensure that equipment used in manufacturing is in good working order.
How To Get Yourself a Millwright Job in Canada?
Follow these steps if you are interested in becoming a millwright:
Graduation from high school 
An associate's degree or high school diploma is the minimum educational requirement for a millwright position. The following courses are useful for this work: English or French, mathematics, and science. In addition to building relevant skills, such as communication and numeracy, these subjects provide students with a basic scientific understanding of industrial processes that helps them succeed in the workplace.
A millwright college program can help you continue your education. In these courses, either general aspects of the profession are covered or a single specialty is covered, such as working in industry, packaging, or construction. Before starting an apprenticeship, consider completing a college diploma or certificate program, even if it is not a requirement.
Obtain your apprenticeship
Millwrights are generally required to complete an apprenticeship, regardless of the province or territory they work in. On-the-job training and theoretical studies are both part of this program, which usually takes four years to complete. After completing an apprenticeship, some provinces also offer millwright certifications. Applying for millwright jobs may differentiate you from other candidates even though it's not officially a requirement.
Get your C.V. and cover letter ready.
As a millwright, you can work after completing an apprenticeship. If you have any other work experience, you can include it in your resume and cover letter when applying for relevant jobs. Outline your duties in terms of details, mechanical knowledge, troubleshooting skills, and time management skills. You should revise your resume and cover letter for each job you're applying for to match the employer's preferences regarding new hires after creating a standard resume and cover letter.
Applying for millwright jobs in Canada
Browse dedicated job websites to find millwright jobs in your geographic area. Contacting former employers from your apprenticeship training is also a good idea if you want to inquire about current jobs. Alternatively, you can contact local employers who are likely to need millwrights in their operations for more information about job openings.
Dawn Staffing Solutions and Millwright Jobs in Canada!
When there is a lot of competition for jobs in your field, finding a job can be challenging. If you're looking for a millwright job in Canada, Dawn Staffing Solutions can help you and offer you a range of benefits. Understanding the role of a recruiter and the potential benefits of hiring a professional is essential if you're considering using one. As one of the top recruiters in North America, our team has specialized skills to find you the correct position in the best companies. Go check our website out and the next step would be to not hesitate while reaching out to us!