Manufacturing Trends And Job Growth In Canada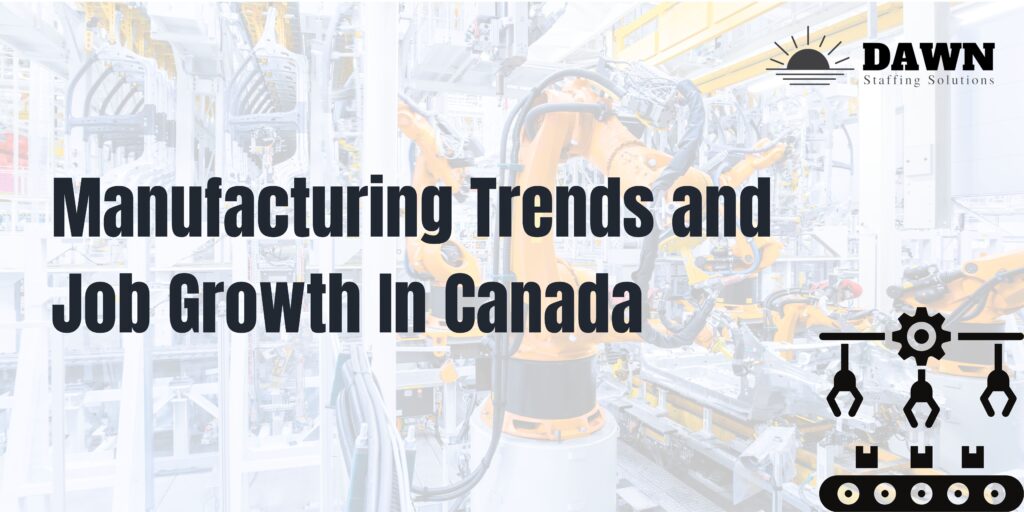 Canada's economy depends heavily on the manufacturing sector. There is also an indirect impact of the sector on other sectors of the economy. Manufacturing businesses are often clients or suppliers of other businesses. The Canadian Manufacturers and Exporters estimate that manufacturing represents 30% of Canada's total economic activity.
Top Manufacturing Trends
An increase in output despite a drop in the labor force
In keeping with the U.S. Bureau of Labor Statistics, manufacturing jobs were projected to decline by over half a million between 2012 and 2022. In 2022, we continue to see manufacturing companies lay off employees. Meanwhile, manufacturing output is increasing as companies ramp up production post-pandemic. The trend of increased manufacturing output isn't new. Over the past decade, the output is expected to increase 2.4%.
Continued Initiatives to Resolve and Organize Supply Chain Challenges
Supply chain hiccups and delays are expected to persist throughout 2022 due to a global shortage of materials and high energy costs. The international supply chain network of manufacturing companies is experiencing distribution delays.
Manufacturers must develop workarounds to meet consumer demands, while consumer expectations remain as high as ever. It is possible to minimize disruptions to supply chains by implementing effective communication strategies. Communication in the workplace ensures that everyone works together and is on the same page.
AI is altering manufacturing worker responsibilities
Manufacturing automation isn't a new concept. Yet manufacturing companies are increasing their investments in automated solutions. Manufacturing is experiencing a shift in labor structure and distribution due to the focus on automation and robotics. In order to maximize the efficiency of their workforce, companies must rethink how they engage their employees.
The significance of human resources in recruiting and motivating workers in manufacturing
Recruiting and retaining younger workers is one solution to the manufacturing labor shortage and skills gap. Keeping up with demand and solving the skills gap require manufacturing companies to attract new workers and boost employee retention. The employee life cycle is being rethought by HR departments in 2022.
Growth Of Manufacturing Jobs and Canada's employment
We discussed how manufacturing makes up a lot of the Canadian labor force. Although manufacturing isn't expected to grow exponentially, it will continue to grow steadily. The importance of manufacturing in the Canadian economy and employment arenas bodes well for those seeking steady careers and steady employment.
Canada's largest manufacturing province: Ontario.
With 12.6% of the country's gross value added (GVA) coming from manufacturing, Ontario is the nation's largest manufacturing province. Ontario's primary exports are automobiles, machinery, and electrical equipment. Moreover, a significant growth has been seen in manufacturing jobs in Ontario.
What manufacturers in Canada should take into account
Manufacturers should be looking for more ways to attract skilled laborers and qualified workers over the next few years, given that the manufacturing industry is expected to grow. Underrepresented populations, such as women and immigrants, must be considered by manufacturers. Training and support should also be provided by manufacturers to enhance the qualifications of dependable workers. Additionally, they should prepare ways to make their company stand out on the job market.
What Can Dawn Staffing Do for You?
Dawn Staffing provides skilled, reliable, and safe support for manufacturers. Many manufacturing companies have openings in Canada. Some people don't have the skills to work behind a desk at an office. However, exceptions are allowed! Canadian manufacturing companies often require a Maintenance Supervisor/Manager or Production Supervisor/Manager in Canada. We can help you find the best manufacturing jobs in Canada. Dawn Staffing Canada can help you find the best blue-collar workers for your business.