Dawn Staffing Solutions – Manufacturing Recruitment Agency, Ontario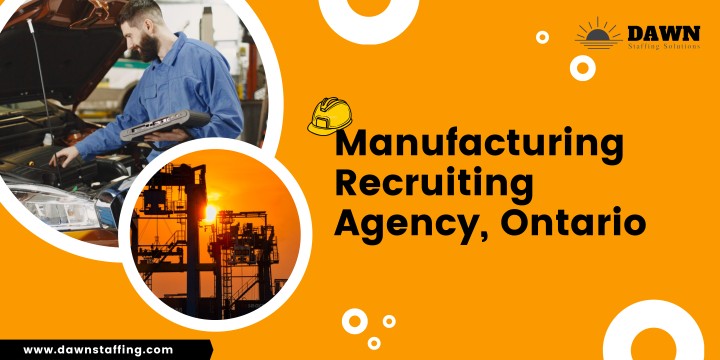 Technological Advancements In Manufacturing
Numerous innovations are already in place, paving the way for future advancements. The internet of things has resulted in cost reduction, product innovation and increased safety. Predictive maintenance has helped to reduce downtime and prolong the equipment's life. Large companies have long relied on big data to improve their manufacturing processes and reduce operating costs. When VR & AR is used in the design phase it can allow for product revisions prior to the start of the production phase.
Recruitment in Manufacturing in Canada
Domestic manufacturing will become more attractive as the automation of labour and human roles becomes more sophisticated. To maximise the potential of this technology, a workforce of computer coders, data scientists and other specialists is necessary. Post-secondary institutions will need to be able to meet the growing demand for highly-skilled technicians. This is why recruitment is a crucial success factor.
Why should you look for a Manufacturing & Operations Recruitment Agency?
Recruitment of new employees can be costly and time-consuming for companies. It takes up considerable resources and offers few guarantees. Employers recognize the importance of high-quality talent, those who can help their company grow and improve its bottom line. HR's challenge is to ensure that there is constant talent in the company and to hire people who fit the job and culture. This becomes more challenging in a competitive job market where many employers are looking for skilled and experienced employees.
Employers often need expert support in their hiring strategies. A manufacturing recruitment agency in Ontario can help you find and attract talented people and negotiate terms. Organisations can use this method to find the right people to help them move forward, to bring them to interviews, and to secure their services within their budget.
Dawn Staffing: What can we do for you?
Dawn Staffing provides skilled, reliable, and safe support for manufacturers. Many manufacturing companies have openings in Canada. Some people don't have the skills to work behind a desk at an office. However, exceptions are allowed! Canadian manufacturing companies often require a Maintenance Supervisor/Manager or Production Supervisor/Manager in Canada.
We can help you find the best manufacturing jobs in Canada. Dawn Staffing Canada can help you find the best blue-collar workers for your business.