How To Help Your Business Stand Out To Job Seekers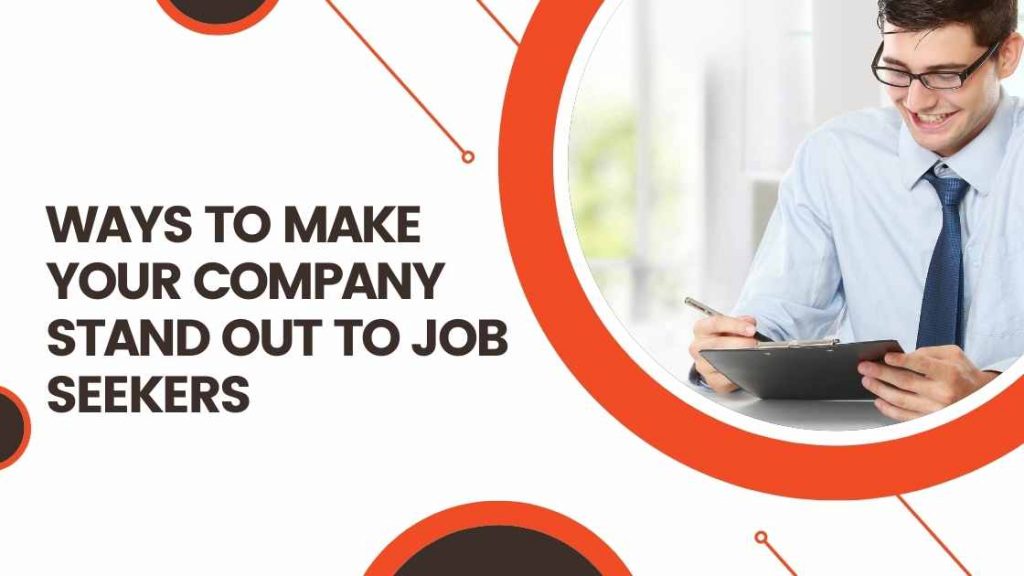 What sets your business apart?
To differentiate yourself from the rest in this regard, you must determine the distinctive qualities your business offers that job applicants appreciate. This advantage in competition should be genuine and not just a fake selling feature. It must be something that's important to potential employees and what your current employees consider to be an advantage working for you.
The strategies below can give your business an edge over competitors and increase the number of job candidates.
1 – KNOW THE REASON PEOPLE WORK FOR YOU
Your employees are earning an income however, there are other reasons they're picking your company over other companies. Are they attracted by the salary and benefits you provide as well as a sense of significance as well as purpose? What about career advancement as well as corporate culture and benefits? Make sure you understand the reasons your employees remain at your company when there are a lot of options available.
2 – TREAT PROSPECTIVE JOB CANDIDATES EQUAL TO CUSTOMERS
What's the best benefit you can provide potential job seekers? In your efforts to find applicants, you must take into consideration their preferences just in the same way you meet the requirements of your customers.
3 – BRING UP YOUR EMPLOYER BRAND
The image and reputation of a business could draw potential candidates for jobs or turn them away. The brand of your employer (image as well as reputation) is influenced by the ideas, beliefs as well as the impressions, perceptions and interactions customers encounter with your company. Here are some ways that you could do in order to impact the perception of potential employees about your brand's image positively
Demonstrate what it's like to work for your company with a focus on the culture, perks, reviews/ratings. Post positive comments of your staff on the site as well as on social media. Your participation in your community and social responsibility accomplishments. Special events are organized to show that you appreciate and appreciate your employees. Maintain an active and up-to-date online presence.
4 – ASSIST YOU WITH JOB POSTINGS
In the initial step of the screening process for candidates Job descriptions must be precise enough to indicate to prospective employees if a job is suitable or not. An unprofessional job advertisement will discourage hopeful applicants from applying, or leave you going through piles of resumes and applications from non-qualified applicants.
Candidates browse through a variety of adverts while searching for jobs. To catch the attention of potential employers, you must create professionally written advertisements that include all relevant details, such as the job title, a precise job description, qualification and other details about the requirements, working conditions, and pay. Be precise. Avoid jargon and cliches like "team participant," "self-starter" and "fast-paced environment." Find unique ways to communicate your company's values and what you're seeking in a prospective employee.
5 – CREATE A STRONG COMPANY CULTURE
One of the most effective ways to draw top talent is to give them the best work environment. A positive culture in the workplace (also called corporate culture or organizational culture) lets employees feel valued and engaged, improving their performance and loyalty.
Your company's culture is the result of your company's vision, values, the work environment, and behavior. It affects how employees perceive the organization and how its customers feel about it.
6 – REVITALIZE YOUR BENEFITS AND COMPENSATION
Many professionals are looking for more than a regular salary as reward for their efforts. Alongside the competitive pay applicants typically look for other benefits, such as health insurance or paid time off. They also prefer to work for organizations with perks like telecommuting, flexible hours, reimbursement for the internet and few more.
If you're struggling to attract applicants, it's time to examine your compensation plan to determine whether you could improve it. Top performers today have high expectations and in an in-demand job market exceeding or meeting the expectations of job seekers is a certain way to make yourself stand out.
7 – HIRE A RECRUITMENT AND STAFFING AGENCY
An experienced and reputable recruitment and staffing agency can allow you to distinguish yourself from other companies when you are trying to attract skilled job seekers. A reputable agency can boost the profile of your business and manage certain aspects of the recruiting and staffing process including job advertisements and screening candidates, interviewing and qualifying, hiring onboarding, and training. Agencies with years of experience operate more effectively than internal HR departments and provide customers access to job-seekers.
Dawn Staffing Solutions as your Go to Partner:
Are you prepared to make an impression? Dawn Staffing Solutions helps employers of all sizes in any sector to catch the attention of job-seekers and provide them with access to the best job candidates. Dawn Staffing can help you get hired for the best jobs in Canada. Dedicated to finding top talent and delivering flexible solutions to our clients, Dawn Staffing Solutions puts your needs first. We are one of the top recruiting companies in Canada. Dawn Staffing provides temporary and permanent staffing for various industries and job functions. We at Dawn offer recruiting services Canada-wide. To learn more about Dawn Staffing, please visit (www.dawnstaffing.com) and do not hesitate to reach out.