Impacts Dawn Staffing Solutions is making on Skilled trade Recruitment in Ontario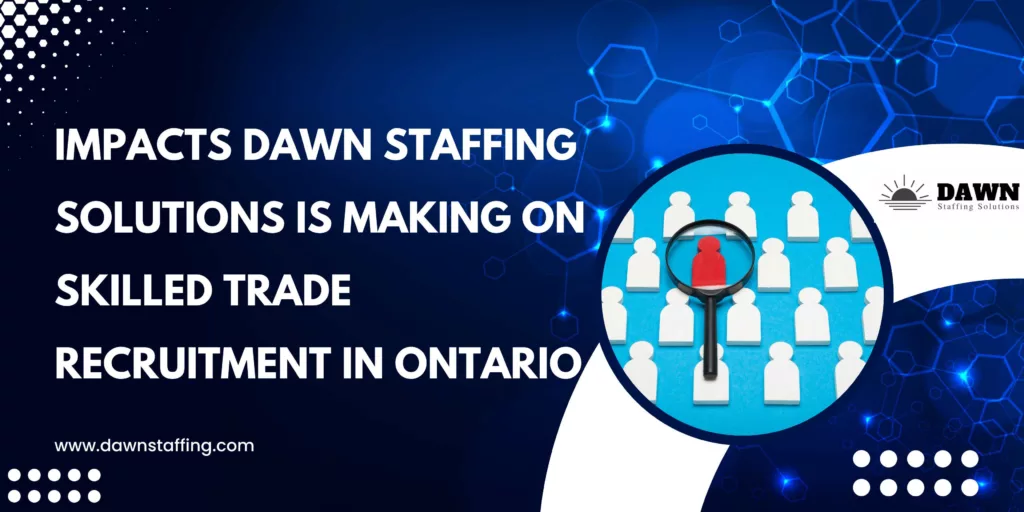 For those who rely on these services, as well as for businesses that rely on these kinds of manpower, the widening trade gap presents a challenge, as it has already caused projects to slow down, consumer costs to rise, which may result in companies falling behind and having trouble adapting. We have some insight into how the ongoing trades shortage may affect your ability to hire, as well as how Dawn Staffing Solutions helped our clients deal with the situation.
Emerging Shortage
Since a few years ago, skills trades shortages have been slowly growing, but they have really taken off over the last year. A major reason for the discrepancy between supply and demand is the retirement of baby boomers, without enough skilled labour entering the fields to replace them. There is also a general lack of interest from younger generations in skilled trades, despite the availability of a much wider range of employment opportunities.
As a result, employers often settle for someone with little or no experience because there aren't enough workers in the various trades. It can still take several days for a skilled trades opening in Ontario to be filled even though training is often provided on the job.
Your Hiring May Be Limited By The Shortage
There is a pressing issue associated with this ongoing shortage of skilled trades both in terms of quality and quantity.
It is possible for employers to worry that new employees don't possess the same level of expertise as older employees whose experience spans decades.

Secondly, in general, not enough people may be available to fill all the positions that are available, leaving those who work overwhelmed and burnt out.
For employers who need the right kind of manpower and skill level, both of these factors are understandably stressful. In this day and age, businesses must save money wherever they can, as both unfilled vacancies and replacing unfit employees can be extremely costly. As well as these logistical threats, hiring the wrong candidate can negatively affect both the employee and the employer in other ways, such as high stress, frequent injuries, and low engagement.
Impacts Dawn Staffing Solutions is making on Skilled trade Recruitment in Ontario!
Over the past few years, hiring managers and employers have agreed that qualified candidates are hard to find – or, to be more accurate, difficult to access. It is only exacerbating the current staffing and recruitment crisis, and while staffing agencies may not be able to produce tradespeople out of nowhere, working with a search partner will give you a much better chance of landing a great employee.
Recruiting qualified candidates has never been so difficult, but Dawn Staffing Solutions excels at finding and retaining them! Dawn Staffing is a niche agency that specializes in sourcing candidates for specific job types, which allows you to hire professionals who are ready-to-work right away, thus cutting down your hiring time.
By helping their clients decide what to hire, and by helping our skilled trade candidates find jobs that work for them, we help our customers make good hiring decisions. A great new employee is more likely to be found when you work with Dawn Staffing Solutions.
Matching you with suitable jobs is part of what we do using our knowledge of your skills and experience. We often get you hired faster than you would if you handled your own job search because Dawn Staffing already has connections with companies in need of employees.
Curious about joining our team today?
A trade-specific staffing agency like Dawn Staffing Solutions understands the importance of skilled workers to the development of our nation. Getting to know you is the key to matching you with a job that suits your skills, experience, and desires. In turn, our recruiters help you find companies and jobs that suit your needs. In addition, we use a specific staffing model to give you access to the best companies and environments in Ontario.
We have a simple, easy hiring process, and you can begin right away. We invite you to explore Dawn Staffing's skilled trades solutions in Ontario and start your journey toward the skilled labour jobs you've always wanted.