Everything you need to know regarding engineering jobs in Ontario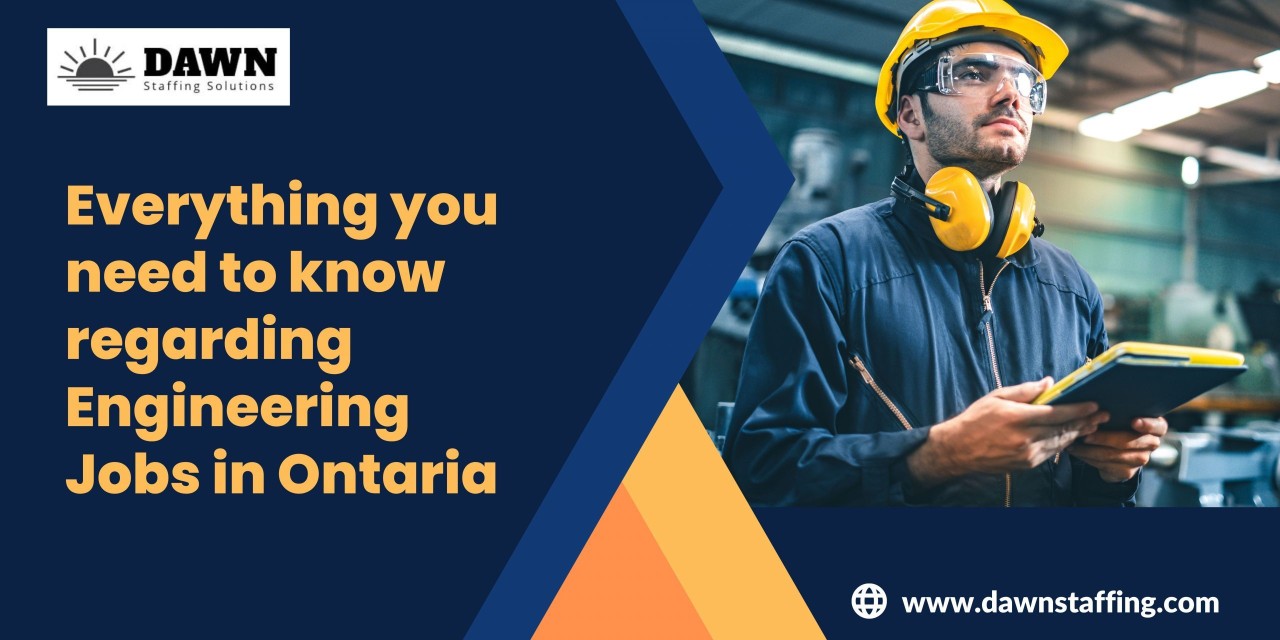 Engineering offers many job possibilities in Canada, as you might know. Now what should you do before pursuing a career in engineering?
Consulting Engineering Professionals
Remember that Canadian employers value the Professional engineers when considering a position that is to be filled. You will need to be certified by your provincial engineering body and then work under a professional engineer for a required period of time.
It should not surprise that highly skilled candidates are in demand due to the high demand for engineering jobs in Canada. Dawn Staffing Solutions is one of the top engineering agencies in Ontario. We work closely with our team so that you get the job.
Canadian engineering skills in demand
Engineering jobs in Canada are great because they can often withstand economic misfortune or fortune. It doesn't necessarily mean that this sector is immune to the larger economy's changes, but it does mean that highly skilled engineers are still in high demand throughout Canada.
According a survey, the top eight engineering jobs across Canada in 2019 were:
Electrical engineer

Mechanical engineer

Project engineer

Civil engineer technician

Manufacturing engineer

Process engineer

Engineering manager

Quality assurance technician
High-demand Engineering skills
Canadian employers seek a variety of engineering skills. Depending on your expertise, a few of these skills will be in high demand:
Artificial Intelligence – Implementing AI is not just about a technology upgrade. An organisation must take this journey to improve their agility, efficiency, and productivity. If employees aren't trained to use the technology, it can be difficult for them to implement it, which could lead to financial losses. This is why enterprises seek out fresh talent with basic knowledge about AI and its underlying technologies to help them implement the system.
Machine Learning- machine learning is a subset in AI. It involves feeding data into machines to enable them to decode patterns, and then learn from it to automate processes. Engineering students who have knowledge of probability and statistics are preferred because this technology involves data analysis.
Software Development and Programming – Software development is the heart of every tech product. Programming languages include Python, Java and Python. Engineers will need to have a good grasp of these languages if they are going to develop software for mobile or the web.
Analytical and Systematic Reasoning – Engineers need to improve their problem solving skills by using systematic and analytical thinking.
Communication skills – Graduates in any field need to have effective communication skills to be successful. Employees will struggle to communicate their ideas with their colleagues if they lack communication skills. They won't be able to ask the right questions to obtain the information they need.
Engineering Recruitment In Canada With Dawn Staffing
Dawn Staffing Solutions has helped many companies in Canada find the right people for various engineering positions. Employers can rely on Dawn Staffing Solutions for help in finding the right people because of our expertise in engineering recruitment in Ontario, and also all across Canada.
Our network is strong and includes the top engineering talent in the country. This allows us to connect you with people with the technical skills required to do the job well and who would be a good fit for your team. We can connect engineers with decision-makers in Canada looking for engineering jobs. Contact our engineering recruitment team today to start your next chapter in your career.
Search the Latest Engineering Jobs in Ontario, Canada
Dawn Staffing can help engineers who are ready to move up in their careers. We can help them find challenging projects or the next steps in their career. There are many engineering jobs available through our employer partners. Take a look at our job board to see all the current engineering jobs available in Ontario.