What You Should Learn About Skilled Trades Jobs In Ontario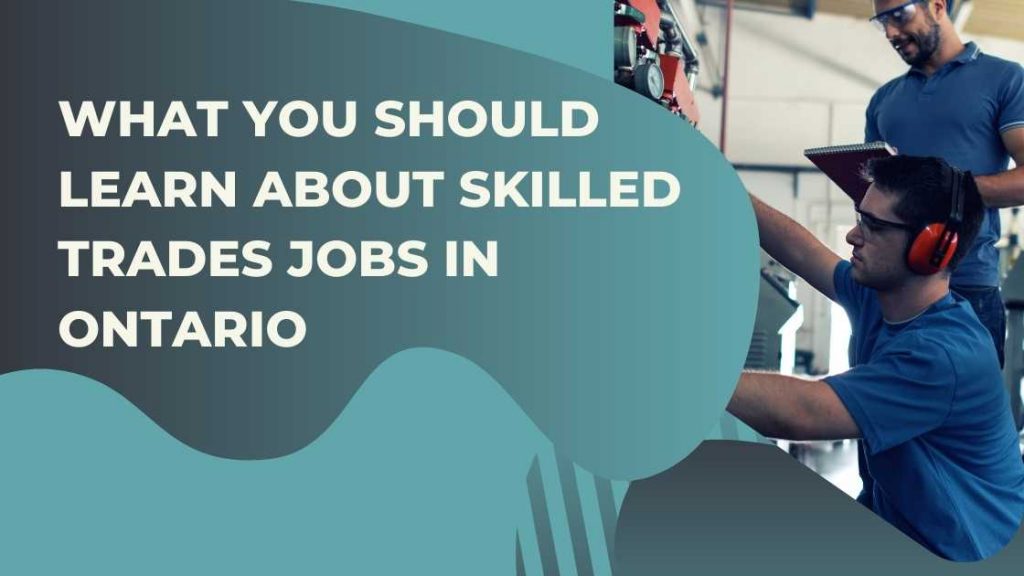 Dawn Staffing Can Help You Find The Following Skilled Trades Job in Ontario:
Millwright:

 Factory workers, construction workers, and other industries use millwrights to manipulate industrial machinery. A millwright may also be referred to as an industrial mechanic. Millwrights often undertake mechanical and industrial projects. Installing, maintaining, and repairing industrial machinery and equipment are basic millwright skills. They align and replace individual parts of a machine using specialized tools such as welders and hydraulic bolters. Moving and relocating machinery is also part of their responsibilities. We can help you get the perfect

millwright job in Ontario

.

Electrician:

Electricians are in great demand because of the expansion of the energy sector. They install repairs, maintain, and replace electrical systems within structures. They could be working with a range of equipment, such as channel lock pliers and long nose pliers. They also work with wire strippers, crimps, the roto split, volt meter as well as a the voltage tester, tester for receptacles pipe reamer and insulated screwdrivers hacksaw, jab/rocksaw torpedo level as well as power drills, headlamps knee pads, as well as tape to measure.

Tool and die maker:

He is a tradesperson who operates machinery in order to manufacture machine parts and tools. Professionals in this field are highly trained, and they refine their professional focus throughout their careers by earning certifications and refining their skills. Knowing about the career advancement opportunities for tool and die makers is beneficial if you are interested in a trade career that involves mechanical innovation.

CNC Programmer / Machinist:

A CNC Machinist is responsible for programming, setting up, and operating CNC machines while adhering to quality and safety standards, preserving records, and maintaining equipment, tooling, and supplies. In CNC machines, a computer connects to a mill with electrical drives and sensors for a complete system, which is programmed by CNC programmers.

PLC Programmers:

  PLCs, or programmable logic controllers, are computational devices that play a vital role in industrial automation processes. Using PLCs, assembly lines can be repeated or automated, including machines, robotic devices, and specific processes. It is easy to retrofit PLCs into any production environment since they are rugged, versatile components. Inputs such as sensors are received and processed to provide outputs that satisfy predefined parameters. A PLC monitors and interprets data to start, stop, speed up, and slow down processes.
The Importance of skilled trades Jobs:
There are a variety of career opportunities to choose from in the skilled trades industry, which includes construction, transportation, manufacturing, and services. Practice in the trades industry offers a wide range of innovative, hands-on, and creative roles.

In a constantly changing economy, skilled trades jobs in Ontario are jobs that are not going anywhere, which is why working in the trades looks so good right now. In order to ensure blazing-fast phone and internet connections, we need someone to build and pave our houses and offices. 

It's not just about job security when you work in the trades. Earning a good wage while doing something interesting and meaningful is also important. Most people pursue education with the goal of eventually finding a job and working. A major advantage of entering the skilled trades industry after receiving your post-secondary education is how quickly you can begin your career.
Helping Employers With Skilled Trades Jobs In Ontario and The Role Of Staffing Agencies
Skilled tradespeople are in high demand across Canada because there are more jobs than people to fill them. In such a tight talent market, how do you attract workers with the right skills and experience? You can of course connect with a staffing agency. Our goal is to find skilled tradespeople who are looking for a change and reach out to them through new and untapped channels. It can be more difficult to connect with some skilled tradespeople than others, but we're always willing to try.
When the market is so competitive, how can you find hard-to-find tradespeople with the right combination of technical skill and experience? Among the best staffing agencies in Ontario, Dawn Staffing is dedicated to solving this issue. As part of our network, we have established relationships with seasoned tradespeople who have the skills and experience that employers most need.
Our Commitment To Employees In Being The Best Skilled Trades Agency In Ontario
Our commitment in the role of our Best Skilled trades Agency in Ontario is indefatigable. Providing skilled trades recruitment solutions in Canada, we strive for utmost satisfaction of both candidates and clients by providing skilled trades recruitment solutions in Canada. We aim to match employees with the most compatible company. Our talent pool has a variety as wide as the unique culture of our customers. We recognize the necessity to be able to match the overall chemistry of our candidates, and not only the specific talents. With our candidate/client-centric approach, we stay involved in the hiring process long after the job placement is complete.